What Makes The Best Outdoor Rugs for Your Home?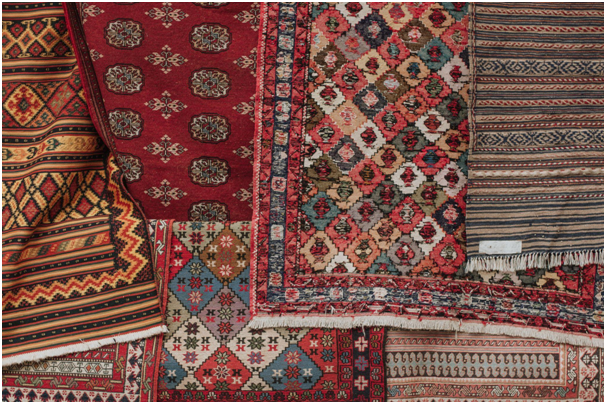 Will you be spending more time outdoors this summer? Our outdoor rugs are the greatest way to add color and comfort to your deck, porch, or patio.
We all take advantage of the longer days and pleasant weather as the seasons change by dining al fresco. Outdoor recreational activities can now be held on decks, patios, and gardens. It's only natural to use your outside space as an extra living room when you spend more time outside of the house.
An outdoor rug is one of the quickest ways to add color, flair, and a little bit of indoor comfort. A rug can bring together a variety of open-air furnishings and exteriors in the same way as it can in interior design.
Outdoor rugs must be able to survive many types of natural environments. Outdoor rugs now come in a wider spectrum of durability and style thanks to recent developments in production. All you need to know about these materials is what traits to search for.
Keep these crucial aspects in mind when shopping for the best outdoor rug to help filter down the huge majority of alternatives.
The Importance of Material
When looking for a rug, you'll see that the market is divided into two categories: synthetic and natural fibers.
Synthetic fibers are popular because of their brilliant color, durability, and resistance to fading, mildew, and mold. Polypropylene is used in the bulk of these outdoor rugs, although nylon, polyester, polypropylene, and acrylic versions are also available, each with its own set of benefits and drawbacks.
Polypropylene is a solution-dyed, extruded fiber that does not absorb liquid or stains. Many indoor-outdoor choices are made entirely of polypropylene. Polypropylene has a number of advantages, including the fact that it is inherently stain-resistant, mold-resistant, and mildew-resistant. They then UV-treat it to keep it from fading after being exposed to the sun.
Acrylic has the most natural-looking appearance, with a soft texture that feels cushioned underfoot. Acrylic is resistant to mould and mildew because it absorbs and releases moisture quickly. • Polyester has a lot of advantages, including vibrant coloration that is resistant to fading and many stains, and it dyes well and is fairly color-fast and stain-resistant. Polyester, on the other hand, is susceptible to oil-based stains and can be cleaned off your outdoor rugs, as well as big outdoor mats.
Bamboo, sisal, hemp, jute and seagrass rugs all are made from natural fibres and are inherently eco-friendly as they are all sustainable materials. These rugs are ideal to bring in hues and textures that complement the outdoor space.
Construction Choices
Because outdoor carpets come in a variety of constructions, it's helpful to understand the terminology before you start shopping. Hand-hooked, machine-made, and braided types are the three most common designations.
Hand-hooked rugs, which have a short handmade pile, are the most expensive alternative due to the higher-quality materials used and the extra time it takes to make these rugs. These are available in the most vibrant design possibilities.
Machine-made rugs are produced more rapidly and efficiently using power looms that weave multiple colors at the same time. This manufacturing technique produces a wide range of designs. Machine-made carpets feature less detailing and use more basic materials than hand-hooked rugs to keep the price point low for consumers.
There is no pile on flatweave rugs, which include flat-braided, corded-and-stitched, and kilim-style rugs. These outdoor rugs are manufactured by knotting or weaving polypropylene threads together into a textile with less cushion instead of tufting.
The majority of outdoor rugs have a backing made of polypropylene or another synthetic fiber; rugs made of jute, a natural fiber, will not last as long. Flatweave carpets are reversible because they don't have a backing.
Colorfastness and Colors
Outdoor carpets made of synthetic and natural fibers are available in a variety of colors and patterns. The most common styles are geometrics, stripes, and medallions, but there are also vibrant flowers, tropical looks, and novelty motifs.
Because of their greater colorfastness and durability, woven patterns are the most popular. Indeed, the best outdoor carpets are labeled as'solution-dyed,' implying that the color was added to the chemicals used to manufacture the fiber rather than coloured after it was made.
This procedure guarantees that the rug will not fade. Outdoor rugs, which generally have little shelter from the sun, are especially vulnerable. This greater colorfastness also helps solution-dyed carpets resist stains and clean better than rugs dyed using other procedures, such as yarn dyeing and piece dyeing.
Keep in mind that darker colors create a more intimate atmosphere when choosing a rug. Lighter tones, on the other hand, make a small space appear larger. Rugs can undoubtedly make your outdoor living spaces more stylish, regardless of the design and colors you choose!
Examples
You can customize your floor décor to complement practically any decorating plan thanks to the broad number of outdoor rug styles available. Let's have a look at two outdoor rugs that match the criteria and have received positive feedback and recommendations.
Hug Rug Reversible Woven Rugs 120x170cm
Consider the Reversible Woven rug's reversible two-tone design as the foundation for a modern—even funky—style. Made from recycled plastic bottles, this 120x170cm herringbone rug is soft enough to walk on barefoot! A wide range of consumers are drawn to the long-lasting, fade-resistant, mildew-resistant, and low-maintenance surface.
Plaza Indoor/Outdoor Rugs 152x230cm (£99.00)
Plaza Rugs are known for the quality, beauty, and elegance they bring to indoor-outdoor spaces, with a traditional diamond design. This rug combines superior quality polypropylene synthetic fibres with a low-pile sisal thanks to a power-loomed design. Creating an appearance that combines stain and fade resistance with natural softness for the best of both worlds. With its stylish design available in five neutral color schemes, you may be tempted to get a couple for indoor and outdoor use.
Before you go out and buy new outdoor rugs, keep these suggestions in mind. Bringing the interior out is a trendy design concept that isn't going away anytime soon. Making a porch, patio, or deck an extension of the house is a terrific way to get more use out of these spaces than just a backyard holiday cookout. Outdoor rugs provide instant warmth, flair, and texture to any outdoor setting.