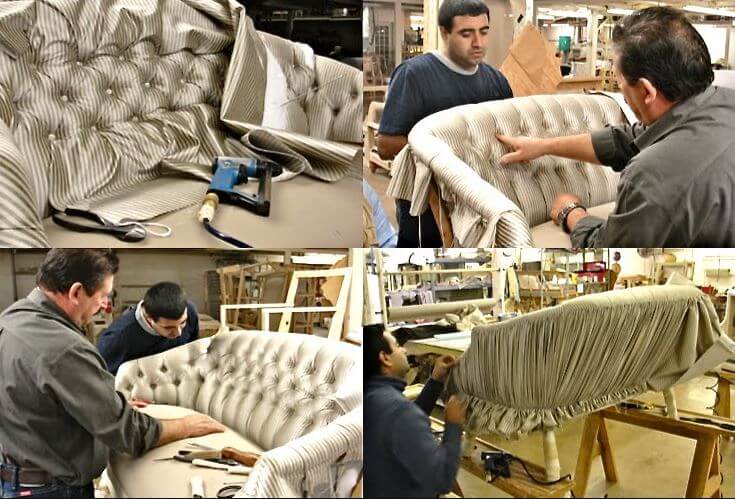 Upholstery refers to the materials used to cover furniture and the act of covering furniture. Here are some general rules regarding upholstery:
Fabric choice: Choose a fabric that is durable, easy to clean, and suitable for the intended use of the furniture. Consider factors such as sunlight, wear and tear, and pet claws.
Fire retardancy: Upholstery fabrics must meet certain fire-retardancy standards to ensure safety. Look for labels indicating that the fabric meets these standards.
Cleaning: Regular cleaning and maintenance are important to keep upholstery looking its best. Always follow the manufacturer's recommendations for cleaning and avoid harsh chemicals that can damage the fabric.
Padding: The padding and stuffing used in upholstery should be of good quality and provide adequate support to the furniture.
Stitching: The stitching used to attach the fabric to the furniture should be strong and well-done to ensure that the upholstery stays in place and lasts for a long time.
Upholstery weight: Consider the weight of the upholstery fabric and choose a weight that is appropriate for the furniture and its intended use. Heavier fabrics may be more durable but may also be more difficult to work with.
Professional help: For complex upholstery projects, it may be best to seek the help of a professional upholsterer to ensure the best results.
Mistakes Made By Beginning Upholstery
Choosing the wrong fabric: Upholstery fabric should be durable, stain-resistant, and appropriate for the intended use.
Skimping on padding and materials: Cheap materials can lead to a shoddy finished product.
Improper measuring and cutting: Incorrect measurements can result in a poorly fitting cover.
Not testing the pattern before cutting the fabric: This can lead to costly mistakes, especially if you are working with a large piece of furniture.
Not pre-washing the fabric: Some fabrics shrink after washing, so it's important to pre-wash them to avoid surprises.
Not using the proper tools: Proper tools such as staple guns, cutting knives, and pneumatic hammers are essential for a professional-looking result.
Not following instructions: Failure to follow instructions can result in mistakes that are difficult to fix.
Not using enough staples: Insufficient staples can cause the fabric to sag or pull away from the frame.
Interesting facts about Beginning Upholstery
Upholstery is the process of covering furniture with fabric and padding to make it more comfortable and attractive.
The art of upholstery dates back to ancient Egypt and Greece.
Upholstery can improve the life of a piece of furniture by protecting it from wear and tear.
There are several steps involved in upholstery, including removing old fabric, repairing the frame, adding padding and springs, and covering it with new fabric.
Upholstery requires a variety of tools, including a staple gun, hammer, pliers, and fabric scissors.
The type of fabric and foam used for upholstery will determine the comfort and durability of the finished piece.
Professional upholstery services can be expensive, but learning basic upholstery techniques can save money and allow for customization.