Fresh Water Pearls Vs Akoya Pearls – What You Need to Know?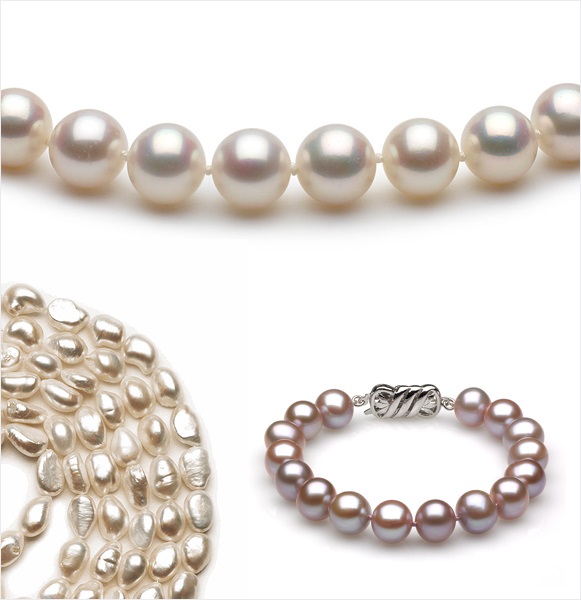 There are a lot of people who often is confused between Akoya and Freshwater pearls. If you have the same problem then this article is for you. You can actually know how Akoya cultured pearls are different from freshwater pearls in this article.
Akoya pearls are salt water pearls. Besides, they have more lustre than the fresh water pearls. Akoya cultured pearls generally have brilliant lustre and hence they are expensive than freshwater pearls.
Both Akoya and freshwater pearls are available in different colours but freshwater pearls are available in more colours. When it comes to the durability freshwater pearls more durable than the Akoya cultured pearls. The below are some more differences between Akoya and Freshwater pearls.
Akoya cultured pearls generally have very thin nacre whereas the freshwater cultured pearls will generally have thick nacre.
Freshwater pearls are generally off-rounded in shape whereas the Akoya cultured pearls are perfectly round in shape.
Pearl Jewellery to Try This Season
The below is the list of different varieties of pearl jewellery which you must definitely give a try.
If you are looking for a pearl necklace which goes well with casual wear then a single strand Akoya or freshwater pearl necklace would be your perfect choice. Choose a lovely white pearl necklace if you want to look pretty and elegant.
Try the Akoya pearl hangings to look perfectly stunning. If you want to look simple and stylish then try the single pearl studs. You can also choose the drop earrings as well to look cute.
Different types of pearl bracelets are available in the present days. Trust me you will look absolutely stylish when wear pearl bracelets. Besides, you can try the bracelets to your office or while going out with your friends.
Don't have enough budgets to buy a gold or platinum pearl necklace for your girl? Don't worry! There are some stores in online which also offer silver pearl jewellery. Besides, the silver pearl jewellery will not be as costly as the gold and platinum pearl jewellery. Hence, you need not really have to worry about your budget now.